Hey guys. Sorry for the very long unannounced hiatus. I've been very busy lately and havent had any time to update. My finals are going on right now and hopefully after that there will be lots of updates! I'll be making a requests posts soon and i'll be looking for some makers. more info will be posted.
Shakira: Icons
Hilary Duff: Icons + Album Cover
Britney Spears: Icons + Womanizer Cover + Circus Promos
preview
Shakira:
Hilary Duff:
Best of Hilary Duff cover.
Britney Spears:
Womanizer Cover. I made these before the official cover was released lol. See the similarities?
Circus Promos
one
|
two
|
three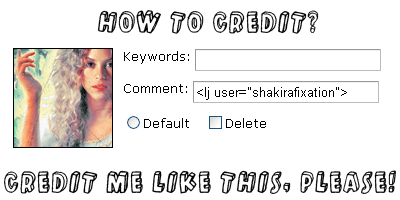 affiliate
|
resources
|
request
join
-it would make me very happy :)
++credit shakirafixation @ xx_fixated_xx
++comment
++textless icons are not bases
++do not use outside of LJ
++please, please don't hotlink

++come back for more!